L E A S A L O N G A
A Classy Filipina Diva!
from ms. Saigon to fame
http://groups.yahoo.com/group/asianamericanartistry/message/5495
http://groups.yahoo.com/group/asianamericanartistry/message/5699
http://groups.yahoo.com/group/asianamericanartistry/message/5676
http://groups.yahoo.com/group/asianamericanartistry/message/5711
http://groups.yahoo.com/group/asianamericanartistry/message/5817
http://groups.yahoo.com/group/asianamericanartistry/message/5731
new-05-04.html#lea-salonga
INTERNET NEWS, February 2, 2005 (For additional information,
contact: Will Shaw, OMCC (314) 621-1509 ) - That strong sense of
her Catholic faith was one of the reasons Lea Salonga was chosen to
host Harmony In Faith, premiering Sunday, February 13, on "The World
of Faith and Values," on the Hallmark Channel (noon,
eastern/pacific, 11 a.m. Central time, 10 am mountain).
Cast at age 18 in the title role of the original London and New York
productions of Miss Saigon, Lea Salonga did indeed get through those
performances and got through them well enough to snag a shelf full
of awards any performer would covet. Her career continues to soar. A
recent review of a Broadway revival of Flower Drum Song said the
three main reasons to see the show were "great costumes, beautiful
staging and Lea Salonga."
She launches a U.S. concert tour on February 12, the night before
Harmony in Faith is broadcast. But no matter what part she plays, in
whatever venue or medium, she brings one thing to each—her strong
commitment to her faith. "My faith has pulled me through a lot of
rough spots in my life and my career. My relationship with God is
pretty good. I try to keep it as personal as possible." Then she
laughs. "For me, going to confession is very cathartic. It's like
going to therapy—you just don't see the other guy, they forget you
and they never bill you!"
Salonga says that as a child she dreamed of becoming a psychiatrist.
Born in the Philippines, Salonga started performing professionally
at age 7 in a production of The King and I in Manila. She won a gold
record for her first album, Small Voice, recorded at age 13. In
1992, she sang the voice of Princess Jasmine in the Disney animated
film Aladdin, which won the Academy Award for Best Original Song.
Salonga says she was pleased to be asked to host Harmony in
Faith. "I think it was pretty important to do. I felt it was a
calling because my business isn't just all about singing and making
people happy that way. It was important to represent my country as
an Asian Catholic and it was a chance to show my faith. My faith is
extremely important to me."
Produced by Oblate Media and Communication Corporation with funding
from the Catholic Communication Campaign, the program is a video
response to a pastoral document from the U.S. Conference of Catholic
Bishops. America's fastest-growing immigrant group, more than 350-
thousand Asian and Pacific Islanders arrive in the United States
every year, a 48 percent increase in the past decade. The program
profiles the music, communities and deep faith of many of these
Asian and Pacific Catholics, emphasizing what the Bishops
called "their gifts and contributions."
The Bishop's document continues to call the Asian/Pacific Islander
community in the U.S. "rich in their diversity, yet one in their
yearning for peace and fullness of life." The Bishops call on the
American Church to welcome this new wave of immigrants and to
celebrate their presence in the United States. "Everyone in the
world has different needs," Salonga said, "and the Catholic Church
has welcomed those who wish to join regardless of where they are or
who they are or where they come from. It's the one religion that
unifies all these people all over the world, even as different as
they might be." Shot on location in San Francisco, Los Angeles, St.
Louis, Washington, D.C., Chicago and Carthage, Missouri, Harmony in
Faith features profiles of the Chinese, Vietnamese, Filipino,
Korean, Kmhmu (Laotian), Samoan, Tongan and Asian-Indian communities.
Featured in the program are: Most Rev. Mar Jacob Angadiath, Bishop
of St. Thomas Syro-Malabar, Catholic Diocese of Chicago; Fr. Paul
Lee, Our Lady of Victories, Washington, DC; Archbishop Wilton
Gregory, Archdiocese of Atlanta, Former President, USCCB; Sr.
Felicia Sarati, CSJO, Director, Ethnic Pastoral Center, Diocese of
Oakland; Cecile Motus, Ethnic Coordinator for Pastoral Care of
Migrants and Refugees, USCC, Washington, DC; Fr. Isibre Bak,
Congregation of the Mother Coredemptrix, Carthage, MO; Bishop John
S. Cummins, Bishop Emeritus, Diocese of Oakland, CA; Bishop Dominic
Luong, Aux. Bishop, Diocese of Orange, CA; Bishop Ignatius Wang,
Aux. Bishop, Archdiocese of San Francisco, CA; and Bishop Oscar
Solis, Aux. Bishop, Archdiocese of Los Angeles, CA.
She's won a Tony, an Olivier, Drama Desk and Outer Critics Circle
awards, she performed the original version of an Oscar-winning "Best
Original Song," she's launching a national concert tour—and she
still prays before performances. "There were nights when I was doing
Miss Saigon in London and in New York when I was waking up in cold
sweats because of the pressure of the show…I was just praying, just
praying that I get through it."
Lea Salonga made her professional debut at the age of 7 in Repertory Philippines' production of The King And I and has since appeared in Cat On A Hot Tin Roof, Fiddler On The Roof,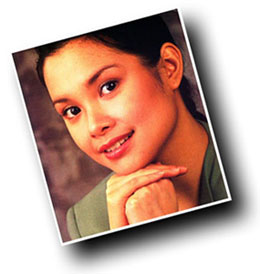 The Rose Tattoo, Annie, The Sound Of Music, The Goodbye Girl, Paper Moon and The Fantasticks. At the age of 10 she began her recording career and received a gold record for her first album Small Voice. She has also hosted her own musical television show, Love, Lea, and opened for Stevie Wonder during his concerts in Mani la. In 1989, Lea went to London to play the role of Kim in the hit musical Miss Saigon for which she received a Laurence Olivier Award, and in 1991 went on to portray that role on Broadway where she garnered the Tony, Drama Desk and Outer Critics Circle A wards. While in Miss Saigon Lea recorded the singing voice of Jasmine for the Walt Disney animated hit Aladdin, and soon after recorded the role of Tuptim in a new recording of The King And I with Julie Andrews, Ben Kingsley and the Hollywood Bowl Orchestra.
In 1993 Lea played the role of street waif Eponine in the Broadway production of Les Miserables, then flew to Los Angeles to perform the song "A Whole New World" at the 65th Annual Academy Awards, where the song won an Oscar. In the same year she released her self-titled international debut album with Atlantic Records, which has gone platinum and gold in parts of Southeast Asia.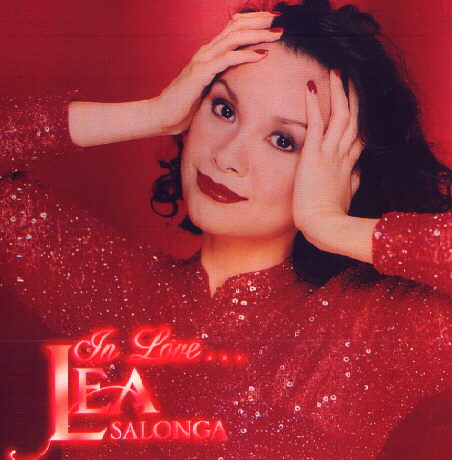 Two years ago Lea played the role of Eliza Doolittle in Repertory Philippines' My Fair Lady and the role of the Witch in Singapore Repertory Theatre's Into The Woods. She was also the opening act for Frank Sinatra's Manila concerts, then performed at the Hollywood Bowl in a concert entitled Arabian Nights at the Hollywood Bowl as part of World Cup Week 1994.
From December 1994-February 1995 Lea played the role of Sandy Dumbrowski in Team Image Entertainment's production of Grease in Manila, and appeared in a special concert called The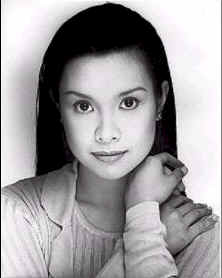 Music Of Alain Boublil and Claude-Michel Schonberg with other Filipino arti sts performing selections from the musicals Les Miserables and Miss Saigon. She made her US television film debut when she played the role of Geri Riordan in Hallmark Hall Of Fame's Redwood Curtain on ABC with Jeff Daniels and John Lithgow. Currently her voice can be heard in a new single recorded with Peabo Bryson called "How Wonderful We Are" which is part of a new album called People, which also includes selections by other artists such as Vanessa Williams, Al Jarreau and Chaka Khan.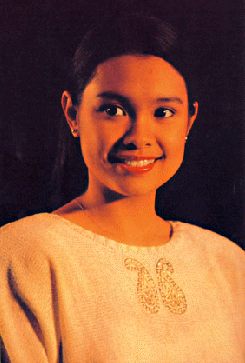 She made yet another appearance at the Hollywood Bowl this summer in a concert called Music Tells A Tale, appearing with Tyne Daly and Reese Holland. Lea was chosen to play the role of Eponine in the Les Miserables 10th Anniversary Concert held at the Royal Albert Hall in London on October 8, 1995, and performed with Colm Wilkinson, Michael Ball, Ruthie Henshall and Judy Kuhn, among others. She will also be the singing voice of the lead for a new Walt Disney animated film called The Legend Of Mulan. Last November 1995 in Manila, she performed in a concert called Music and Miracles for the benefit of the victims of Typhoon Angela, and early this year returned to London's West End as Eponine in Les Miserables.
Lea has performed for former President and Mrs. George Bush, HRH Queen Elizabeth II and President Bill Clinton.
To read the rest of this article by Jeffrey Chew, which includes all the Awards/Recognition, performances (including the roles and shows) and her film/television performances, please enter HERE.
If you want to read the transcripts of the various Internet Chats that Lea have had, just click HERE, HERE or HERE. To view some pictures of Lea in Ms. Saigon, feel free to enter the THE PICTURE ZONE.
OTHER LEA WEBSITES ARE THE FOLLOWING
LATEST NEWS:

Visit HERE to read about her leading role in David Henry Hwang's new "Flower Drum Song." NOTE: Jose Llana, Charlene Caaarebeo, Robert Pendilla and Jennifer Paz are the other Filipinos in the cast.

After Flower Drum Song, her staging of "Proof" by Atlantis Productions will occuring during January 2002. Bobby Garcia is the director of Lea's performance in this "non-musical" / straight play - her first since her appearance in "The Bad Seed" for Reportory Philippines when she was nine.

In February 2002, Lea will have two concerts at the PICC with (hopefully) Martin Neivera as her special guests.

In 2002, she will participate in promoting her latest album, "Songs from the Screen" with BMG Records. The music was recorded live from a concert with the Manila Philharmonic Orchestra in September 2000 with Gerald Salonga as the music director/conductor.

Her television commercial for the clothing company Bayo will be seen.
Any questions regarding the content, contact Asian American Artistry
site design by Asian American Artistry
Copyright © 1996-2003 - Asian American Artistry - All Rights Reserved.